Time Travelers: Reflections on an Imaginative Field Trip to Detroit
Tiya Miles, Professor, Department of History, UM
By New Year's Day in 2014, our research team of undergraduate and graduate students at the University of Michigan had spent eleven months studying the subject of slavery in Detroit. We shared our findings on this website, Mapping Slavery in Detroit, which we released during Black History Month. In early spring 2014, we took our project one step further by creating a travel route based on our map. Our plan was to identify the approximate locations of key sites in the history of Detroit slavery and to visit those places in person. We wanted to see how close we could come to outlining the shape of the early settlement and to understanding spatial relationships between the town and the river as well as between the U.S. and Canada. We also wanted to feed our imaginations for the work of reconstructing the lives of people we had read about in primary and secondary sources — slaves and slaveholders alike — who resided in the riverside settlement in the late 1700s and early 1800s. As you will read in the travelogue of personal reflections that follows, we accomplished these goals and more.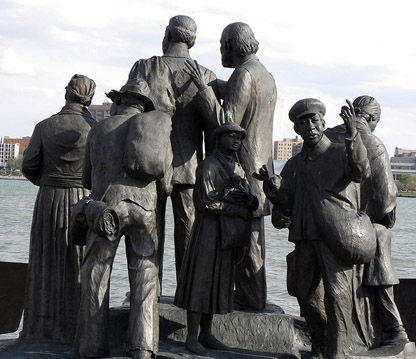 Gateway to Freedom. Image source: Wikimedia Commons.
On a frigid late March day brightened by a clear, crisp sun, nine of us walked the streets of downtown Detroit, holding copies of the Google map we had created of sites related to the history of slavery in the city, sharing thoughts, and taking photographs. Our research team was accompanied by professional storyteller and self-described Detroit native, Elizabeth James, who oriented us by filling in historical context and pointing out popular tourist attractions. High on her list of important places were Underground Railroad sites in the city, such as the lovely Gateway to Freedom monument along the river walk. These well-known sites, however, were not our points of focus that day. We were seeking instead places where scenes of slavery had played out in Detroit in the 1700s and first two decades of the 1800s, a time period before the abolitionist movement had been formed and an organized anti-slavery network had developed in the city. We wanted to imagine the Detroit that enslaved Native Americans and African Americans had helped to build rather than the Detroit that is often figured as the place through which black slaves from the U.S. South escaped to Canada.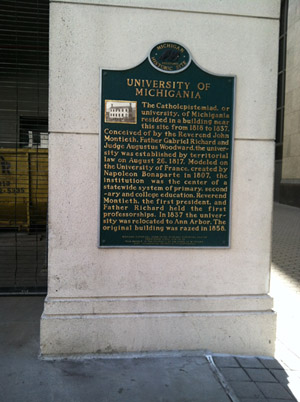 University of Michigania plaque.
Photo Credit: Sarah Khan
Maybe it was being together in the out of doors after so many months of library research, or maybe it was the strangely crystalline light of the early spring afternoon, but something made our outing magical that day. We stood in the core of a modern metropolis, overlaying our mental pictures of the past onto the glass and chrome cityscape around us. Soon it almost felt as though we were straddling moments in time. Through focus, observation, and the exchange of ideas, we could imagine the place we had researched in our minds' eyes: the western hub of Detroit in the Revolutionary War and War of 1812 eras. We were walking on streets that had once been farms owned by merchant-slaveholders, land worked by scores of bonds people of both African and Native American descent who had carved out meaningful lives and sought the prize of freedom.
Although our research team was inspired by our exercise in time travel, we also felt frustrated. The historical sites we had come to find — the homes of slaveholders, lawmakers, governors and former slaves that we had so carefully identified on our conjectural map — were lost to the contemporary cityscape. There were a few streets (like Macomb, Brush, and Abbott) that carried the names of prominent early Detroiters who owned or rented slaves. There were plaques commemorating Fort Pontchartrain and the founding of the University of Michigan (the brainchild of three men, including Judge Woodward, noted on our map). But those were the only signs of eighteenth and early nineteenth century Detroit etched into public memory. Nowhere was slavery noted as part of the city's past, part of the city's early identity. We had spent months researching lives of trial and triumph that no historic sign, no formal marker, took notice of. Our feelings of revelation, connection, and frustration are evident in the students' reflections that follow and push us to continue our work on slavery in Detroit.
Few Physical Reminders
Michelle Cassidy, Doctoral Candidate, Department of History, UM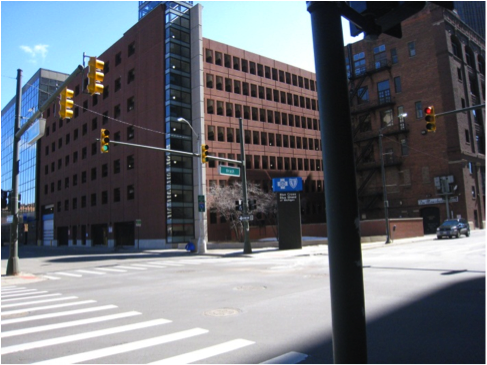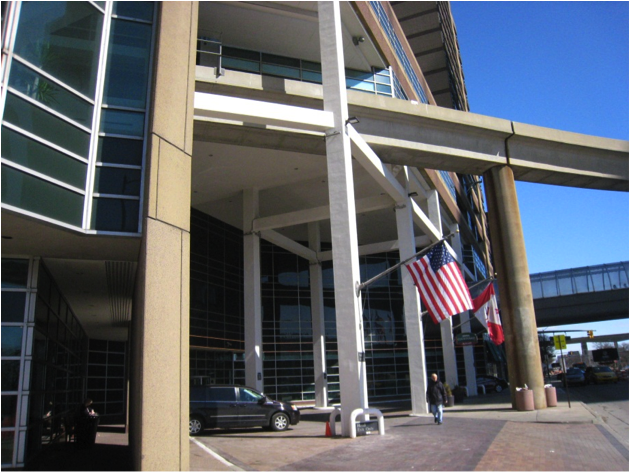 Governor Hull's house and Brush Street. Photo Credit: Michelle Cassidy
While there are few physical reminders of the history of slavery in Detroit, visiting the sites of slaveholders' farms, churches, and the governor's house was a meaningful exercise in understanding the distance between the sites, as well as between the sites and the river. The site of Governor William Hull's house, for instance, was not far from the Detroit River and was also close to the Askin/Brush farm. The American and Canadian flags outside the Courtyard Marriot (site of Hull's house) served as a reminder that the history of slavery in Detroit is also a history of crossing borders (for slaveholders, slaves, escaped slaves, and Native peoples). Hull's fear of Native peoples allied with the British comes into sharp focus when considering his proximity to the river. Visiting the locations of the old ribbon farms was useful for more than just spatial orientation. The Brush street sign located next to a sign for Blue Cross Blue Shield (a Michigan-based company) serves as a visual reminder that the story of slavery in Detroit is Michigan history. Slaveholders' and slaves' locations that we saw during our tour were homes of prominent men connected to a powerful political and trading network that helped build the city of Detroit after the 1805 fire and were the very beginnings of efforts toward a state that was built on the displacement of Native peoples and both free and slave labor.
Modern Day Detroit through a Lens from the Past
Kaisha Brezina, First Year Student, College of Literature, Science & the Arts, UM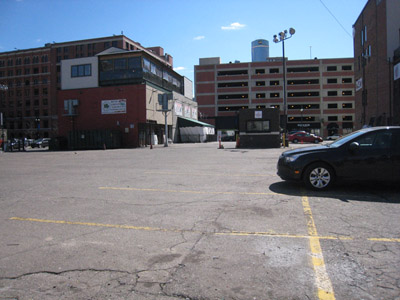 Elizabeth's Denison's house.
Photo Credit: Michelle Cassidy
During our journey through Detroit to various locations on our map, I had many feelings and impressions. As we neared our first stop, I experienced a sense of old-world charm and actually felt as if I were going back in time. I could almost see an unpaved road, the river sparkling, and people walking down the roads in the territory of Detroit. I felt as if I was so close, and then we hit a concrete valley. Suddenly, I was jarred back into the present, and I was once again visiting current-day Detroit for the first time.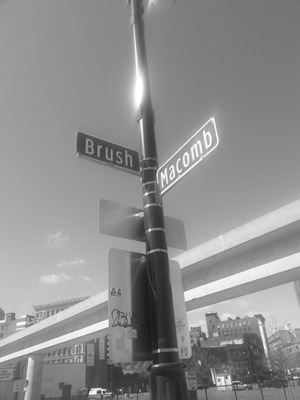 Brush and Macomb Streets.
Photo Credit: Kaisha Brezina
Many of our stops in Detroit were close to each other. Before visiting Detroit and going to see where our stops were, I thought everything would be a bit of a walk. However, many places were very close together and in what is now downtown Detroit. When we were at the location of Governor Hull's former house, I felt like I was close to the heart of both present day and past Detroit. It was a very unique feeling that I have never before experienced, standing in what seemed to me as the heart of the city in two different time periods. I noticed that many of the stops on our route were home to nice buildings with interesting architecture. In contrast, the spot where former slave Lisette Denison Forth's house used to be located was an open parking lot. I found this to be a sad monument to an outstanding woman. Overall our trip to Detroit was very enlightening; I found a joy in it that I did not expect to feel. It was both sad (because of the history) and wondrous because I actually felt as if I could reach out and touch the veil between the current day and the past.
The River as a Guide
Sarah Khan, Sophomore, College of Literature, Science & the Arts, UM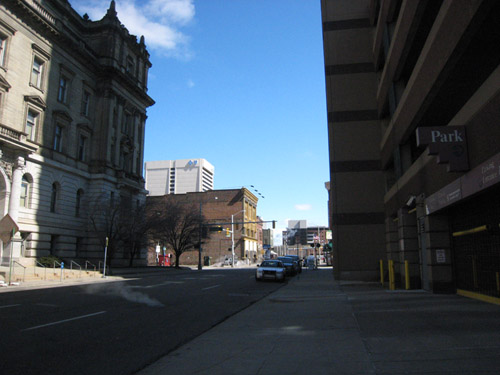 Elijah Brush farm.
Photo Credit: Michelle Cassidy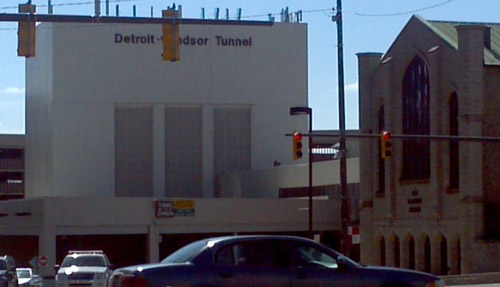 View Toward Canada, across the Detroit River.
Photo Credit: Emily MacGillivray
The Detroit field trip we took was a really interesting experience. It was difficult for me to try to picture farms and the fort when all I saw were concrete buildings. One of the most interesting things was when we were standing on what would have been a ribbon farm. In my mind, I had pictured a conventional farm that was acres long and wide. It was so strange to realize that the farms really only extended a block or two. It was also really interesting to realize how condensed the city was. The fort was so close to the farms, the houses we had mapped, as well as the river. It was incredibly helpful to be constantly aware of the Detroit River. It quickly became apparent that most of the city was planned around access to the river. I hope that we will be able to find historical markers or evidence of the places we mapped out, and I look forward to expanding the map we created.
A City in Larger Perspective
Paul Rodriguez, Sophomore, College of Literature, Science & the Arts, UM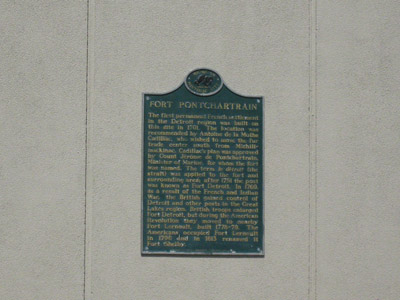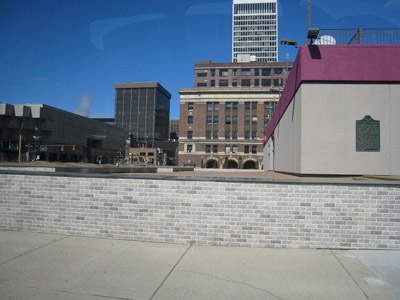 Fort Pontchartrain. Photo Credit: Michelle Cassidy
The research team's foray into Detroit served to put our work in the early part of the city's history into a larger perspective. An especially interesting aspect of the trip, for me, was seeing how the city's priorities have changed over time: a parking garage where St. Anne's Church once stood, and the iconic Spirit of Detroit statue across the street from where a public whipping post was once maintained, for instance. When we stopped at Governor Hull's house, the first site on our journey, one of us made a comment that encapsulates how I feel about this site: "It's STILL the center of everything!" Where the governor's house once stood is now a downtown hub of streets and the people mover which, as befitting a former governor's home, does not fail to impress. The whipping post, where criminal punishments were carried out, is near the Spirit of Detroit statue. I find fascinating the dichotomy between the two very different structures this site has held: the whipping post that broke the spirits of people unfortunate enough to incur the public's wrath, and the grand statue uplifting the soul of the city and encapsulating all that makes the city great.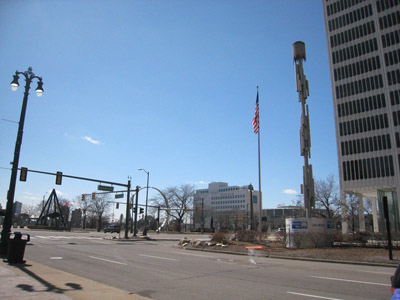 Whipping Post. Photo Credit: Michelle Cassidy
The parcel of land once owned by slaveholder Askin and his son-in law Brush is now, predictably, made up of a city block with stores and hotels, including the home of a relative of our intrepid tour guide, Beth James (which came as quite a shock to us). On the site of the first St. Anne's Church (lost in a city fire) an impressive hotel now stands. The church would have been within sight of the river, as well as where the fort once stood. Here Dr. Miles made on observation that has stuck with me about how close each site was to another. This made me picture how small Detroit must have been, and how far it has come since. While working on this research project, I have spent a great deal of time transcribing the personal documents and ledger of the slaveholding Macomb family. When we reached the site that was once the Macomb farm, I was struck by the influence that the Macomb family continues to exert on the region. As a testament to this fact, not only was the street where we stood named after the Macombs, but an entire Michigan county bears that name as well.