Written by Paul Rodriguez and Sarah Khan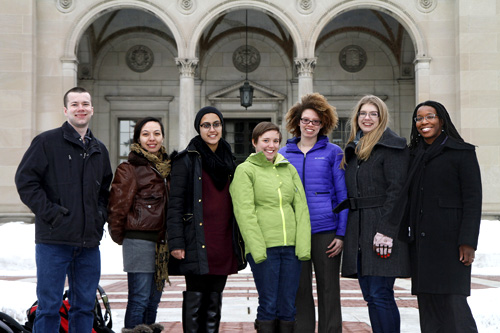 Pictured, left to right: Paul Rodriguez, Alexandra Passarelli, Sarah Khan, Michelle Cassidy, Kaisha Brezina, Emily MacGillivray, Tiya Miles, Clements Library, UM, 2014.
Photo credit: Gregory Fox.
The existence of slavery in the city of Detroit and its surrounding areas is a topic that has yet to be thoroughly researched and explained. In fact, current public portrayals of Detroit's history still emphasize the role of the Underground Railroad. The primary goal of this project is to provide a more complete picture of slavery in the Detroit area for the general public, students, and scholars in order to acknowledge the full history of the area and to learn from it. Our research team attempted to uncover the people, major events, and processes involved in the practice of slavery during the late eighteenth and early nineteenth centuries. To do so, we identified, examined and transcribed primary sources, such as court and personal finance records of slaveholders, as well as personal and professional letters, in order to find clues about the identities of enslaved people and their owners. Analysis of this material reveals much about how slaveholding individuals were connected in terms of business and social relations, especially within prominent Detroit families. It suggests that slavery and the Detroit slaveholding class have left their mark not only on the landscape of present-day Detroit, but also on the city's identity.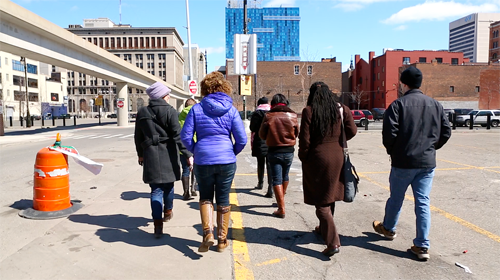 Our research team in Detroit, March 2014.
Photo by Katie Barkel.
This website represents a compilation of the team's findings in the form of: a contemporary Detroit map that we created to highlight sites of slavery, charts that show census numbers of slaves and slaveholders, and our reflections on a field trip as we traced the route of our map. The overarching aim of this project is to expand our collective knowledge of Detroit's history to include this often overlooked and vital piece of the city's story. It is critical to fully comprehend the racial issues Detroit has faced in the past in order to properly understand and combat the racial challenges that the city still faces today.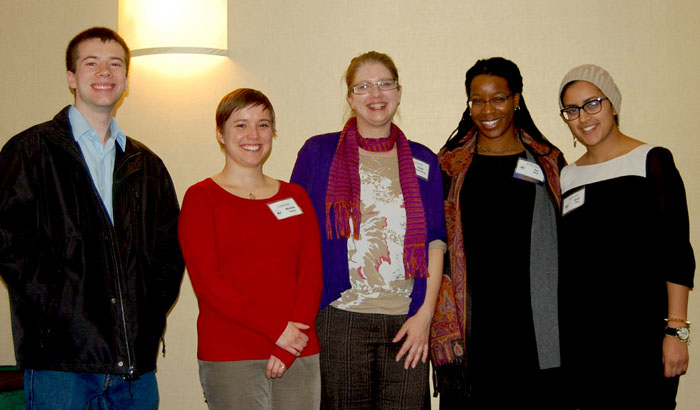 Our research team presented a paper titled "Slavery in Detroit: Stories and Statistics" at Michigan in Perspective: The Local History Conference, March 2013. Pictured: Paul Rodriguez, Michelle Cassidy, Emily MacGillivray, Tiya Miles, Sarah Khan.
Project Team:
Tiya Miles, Ph.D., Chair, Department of Afroamerican and African Studies; Professor of History, American Culture, Native American Studies
Michelle Cassidy (Laingsburg, MI) and Emily MacGillivray (Thunder Bay, Ontario), Doctoral Candidates, UM
Sarah Khan (Commerce Township, MI), Paul Rodriguez (Dearborn Heights, MI), Alexandra Passarelli (Royal Oak, MI), and Kaisha Brezina (Twin Lake, MI), Undergraduate Researchers, UM
Tayana Hardin, Ph.D., Assistant Professor, Department of English, University of Denver
Our research team wishes to thank the University of Michigan Undergraduate Research Opportunity Program (UROP) for funding support and Brian Dunnigan, Associate Director and Curator of Maps at the Clements Library, for invaluable research advice and assistance. We are also appreciative of the excellent suggestions made by Dr. Veta Tucker and Dr. Gregory Wigmore regarding additions to our map.